Protolife
Welcome to a cell! Be a part of a cellular machinery, use amino acid to produce proteins, enzymes and build strong immune system (antibodies, membrane) to protect you from the infection. A small world lives inside every cell of every being.
CONTROLS (keyboard only)
Arrows – move
Tab – switch current block
Space – take / put / interact
ESC – skip tutorial
MANUAL
Build defense towers and walls by placing blue blocks (protein).
Upgrade defense towers using yellow blocks (enzyme).
Collect green blocks (amino acid) and convert them to blue/yellow blocks.
Kill all the infection!
TEAM

Volcanic Giraffe, ladies and gentlemen:
Alexey Grishin – code, music, sounds, pirogi & coke
Ruslan Kibets – code, PR, pizza & tea
Anatoly Sazanov – art, idea, second monitor
Comments
Log in with itch.io to leave a comment.
Hey! It is a bomb! But it does not trigger on the infection (due to a bug). Mobs can trigger it.
This looks fun - are there any plans to release the full version on itch? Steam's not going to be an option for me.
gaahhhh can't beat this one level so frustrating I think you need some key macros with some massive abuse :'(
HOLY SHIT I BEAT IT AFTER 1 HOUR HOLY SHIIIIIIIIIIIIIIIIIITTTTTTTTTTTTTTT
pro tip:
1) make probiotic block
2) collect 10 from inside
3) break the block (remove a blue square at the edge)
4) re-built the probiotic block
5) ... ???
6) profit
pro tip 2:
you can make any gun sumer haxxx if you add a wall to the tip of it. For instance, say you have the long range gun as follows:
BxB
xYx
BxB
(B = blue, Y=yellow, x = empty)
you can upgrade it as follows
BxB
xYx
BxB
xxxBB
xxxBB
just attach a wall, i.e.
BB
BB
to any corner of any gun they'll go bananas xD
Pretty cool, took me a minute to figure out how to actually build towers but from then on it was smooth sailing. It's a bit slow for me, but I really like the concept
Thank you!
BTW, we've released the full version of this game (with much better graphics :)), you may find it in steam
A fun little concept, I can't wait till the full steam game release is available.
Absolutely amazing work. Love it. The music, the idea, how it plays. Really well done. Keep it up
Thanks!
Actually we are working on finishing the game, here is a example of new look. You may notice some new buildings to create, and there will be more of them.
Stay tuned!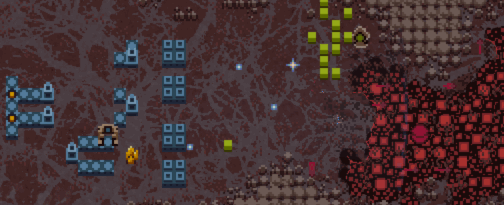 Are you still working on this, it looks promising :)
add summon tower plz for more fun
Great job on this game! It took me to realize it was sort of like a tower defense game xD
I especially enjoy the pixel graphics.