Protolife
Welcome to a cell! Be a part of a cellular machinery, use amino acid to produce proteins, enzymes and build strong immune system (antibodies, membrane) to protect you from the infection. A small world lives inside every cell of every being.
CONTROLS (keyboard only)
Arrows – move
Tab – switch current block
Space – take / put / interact
ESC – skip tutorial
MANUAL
Build defense towers and walls by placing blue blocks (protein).
Upgrade defense towers using yellow blocks (enzyme).
Collect green blocks (amino acid) and convert them to blue/yellow blocks.
Kill all the infection!
TEAM

Volcanic Giraffe, ladies and gentlemen:
Alexey Grishin – code, music, sounds, pirogi & coke
Ruslan Kibets – code, PR, pizza & tea
Anatoly Sazanov – art, idea, second monitor
Comments
Log in with your itch.io account to leave a comment.
Thanks!
Actually we are working on finishing the game, here is a example of new look. You may notice some new buildings to create, and there will be more of them.
Stay tuned!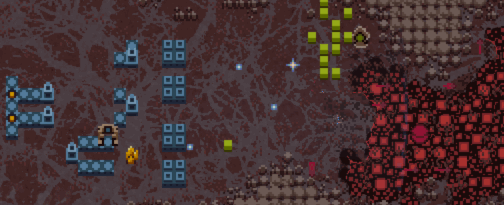 add summon tower plz for more fun
Great job on this game! It took me to realize it was sort of like a tower defense game xD
I especially enjoy the pixel graphics.